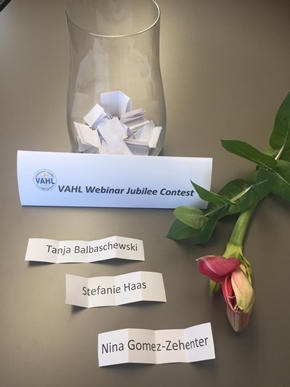 VAHL Webinar Jubilee Contest:

On occasion of the VAHL Webinar Jubilee (50 VAHL webinars) the participants had the chance of winning one out of three vouchers - value 100 € each, alternatively a set of Calinobio (12x22cm + 20x30cm).
Our lucky fairy was Concetta Stegmann:

The lucky winners are (in order of drawing):
Tanja Balbaschewski

Stefanie Haas

Nina Gomez-Zehenter.
Congratulations!